There have been all these tests on face book lately about what or who are you. You answer anywhere from 5-10 questions and they send you your answer. Examples:
What animal are you?
I was a beaver. You are creative, practical and well-organized. If there is someone in need, you will not hesitate to offer a helping hand. Lucky those who have you as a friend, life partner or parent.
Which One Of Jesus' Disciples Are You?
You got: Saint Peter

You're the boss! Literally. You're organized, great at taking charge of situations and dispensing excellent advice to the friends who come to you for help. You regret your mistakes and learn from them, always working hard to be the best at everything you do.

You got: Saint Andrew

You're an effortlessly cool trendsetter but somehow you've managed not to let it go to your head. People pay attention when you walk into the room and you never have any trouble getting your opinions across. You can be a little sharp at times, but beneath that gruff demeanor is a heart of gold.

You got: Saint James

You're a thinker of deep thoughts and a sensitive soul continuously focused on improving yourself and the world around you. An introvert and a wanderer at heart, you're happiest on the road or planning your next big adventure. You don't care about material possessions, preferring to spend money on experiences rather than things.

You got: Saint John

Kind, caring, and easy to love, you give the world's best hugs and can light up a room with your smile. You love nothing more than spending time with your friends and family. Easygoing and good-natured, you're rarely angry except when your loved ones are in trouble. Everyone loves being around you. You're basically the human equivalent of a Golden Retriever puppy.

I got Saint Philip

Practical, organized and quiet, you're always the most level-headed person in the room — a quality greatly admired by your close friends. You love nature and feel happiest when

you're surrounded by green and growing things.
What state should you live in.
I got Nebraska (I don't know what that means)
What color am I?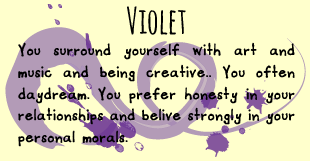 How old do I act?
It said age 26 (I'm several decades away from that number)
You are a twenty-something at heart. You feel like an adult, and you're optimistic about life.
You feel excited about what's to come... love, work, and new experiences.
The tests are fun to take but they don't hold much weight with me. What does is God's Word. There is only one question to answer. . ."
Are you Mine?" Jesus asks
. (ppsst. . He already knows that answer)My answer is "Yes." And so it goes on to tell me this. .
You are a child of God. You are redeemed. You have no need to be afraid. You may have joy in Me. Your sins are forgiven. You are now white as snow. You will live in paradise one day.
Yes, the tests are fun and I'll probably take another some time, but I'm going to stick with words from the Holy Bible. . .they are the truth, the whole truth and nothing but the truth from the One who knows me best. He knows me. He knows how old I am and how old I act. And He doesn't ask silly questions like what animal am I. He does know the number of hairs on my head and he knows all about my tears. He holds them in a bottle. No test can do that!
So, go ahead and take those tests for fun. But don't hang on their answers of you. They don't know you. Jesus Christ does. And for all the answers to all the important questions...you know where to go.